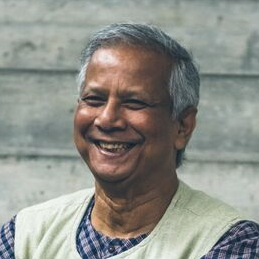 Bangladeshi banker, economist and Nobel Peace Prize recipient. He previously was a professor of economics where he developed the concepts of microcredit and microfinance. Small loans are given to entrepreneurs too poor to qualify for traditional bank loans. Yunus is also the founder of Grameen Bank. In 2006, Yunus and the bank were jointly awarded the Nobel Peace Prize, "
for their efforts to create economic and social development from below
." Yunus himself has received several other national and international honors. He is the author of 3 books Banker to the Poor, Building Social Business and A World of Three Zeros, and a founding board member of Grameen America and Grameen Foundation. Yunus also serves on the board of directors of the United Nations Foundation, a public charity created in 1998 with entrepreneur and philanthropist Ted Turner's historic $1 billion gift to support United Nations causes.
He was named by the Wharton School of Business in Pennsylvania as
one of The 25 Most Influential Business Persons of the Past 25 Years.
In 2009, American Magazine
Forbes
listed him as 6
th
on the list of 
The 10 Most Influential Management Gurus.
In 2009, he was awarded the Presidential Medal of Freedom by US President Barack Obama and in 2010 the Congressional Gold Medal by US Congress. 
Professor Yunus's vision is the total eradication of poverty from the world. In addition to his pioneering work in microcredit, which has now been replicated all over the world, Professor Yunus has developed a new concept that he has termed
Social Business.
He arrived at this model after recognizing a fundamental flaw in the theoretical economic structure of capitalism that says all businesses should be created to maximize profit, transforming the human being into a one-dimensional, moneymaking machine.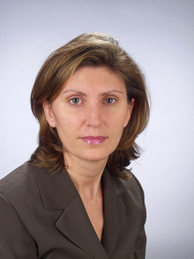 Ida Beerhalter is heading IOME, a private investment partnership of women principals from the Gulf with its head office in Riyadh, Kingdom of Saudi Arabia. Additionally she currently serves as member of the Board of Trustees of Astia, USA, as member of the board of Trustees of First Light Trust, United Kingdom, as Investment Advisor at Bellwald Partner GmbH, Switzerland, as Investment Partner at MedXperts, Germany, as Strategic Advisor to Impact Investment Partners LLP, United Kingdom, as Advisor to Yunus Social Business GmbH, Germany, as Member of the advisory board of Social Business Earth, Switzerland, as Advisor to Omnia Strategy LLP, USA & United Kingdom, as Consultant to Shanghai Biomedical Enterprise LLC, Hong Kong, as Director Corporate Affairs at Cardionovum GmbH, Germany, and as Advisor to MedPrivee. Ida is registered acquisition coach at High-Tech-Gruender-Fonds, Germany, and serves as juror and coach at the European Venture Contest.