Mazao is an NGO that has initiated social-business models, participatory trainings and an agro-ecological approach in the Democratic Republic of Congo (DRC).
The NGO, that was established to empower struggling communities through farming, has recently started a social business called Food from Forest in a small region in the DRC called Tanganyika.
As a way to address the challenges faced by 9 million people from the area who are affected by malnutrition, Food from Forest developed a food system model that holds the potential to reverse climate change, grow food and enhance the economic well being of family farmers.
The Food from Forest social business equips family farmers with the necessary knowledge to create their own man-made forests where they can grow a variety of crops to sell their products and feed their families providing a regular income.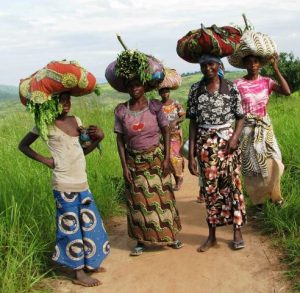 The agro-ecological program produces plants that have nutritional, commercial and medical value. Through its success Food from Forest expects to have established 1200 food forests in their first two years (2017-2019). The goal is to further add another 2800 food forests by the year 2020, the program would be making a significant difference in the lives of over 3000 families in the 100 villages Tanganyika that are affected. By following an innovative reforestation program that is co-sponsored by the Japanese Academy of Agriculture Philosophy this social business is tailored to meet the needs of local people in the Tanganyika villages.
The multifunctional system of Food from Forest creates an environmental impact that will:
Reduce the pressure faced by natural forests

Restore loss of carbon while producing more food with less resources

Enhance the biodiversity
As a result all species of plant chosen are native to the land, serve a multipurpose and require little input as they can easily adapt to climate change.
The food farmers of Tanganyika not only play a prominent role in the farming and producing of goods, but they also participate in the decision making processes of product purchases and resource management through the election of a committee that represents each village involved. Food from Forest offers the different family farmers a theoretical and practical training and coaches each farmer to research a Food Forest design according to their contingent needs and objectives.
Farmers are also given responsibility to collectively decide how to manage their shared resources such as watershed and tools. This kind of participatory management allows the group to synergically become aware of each other's needs and problems, which encourages them to develop innovative solutions as a team.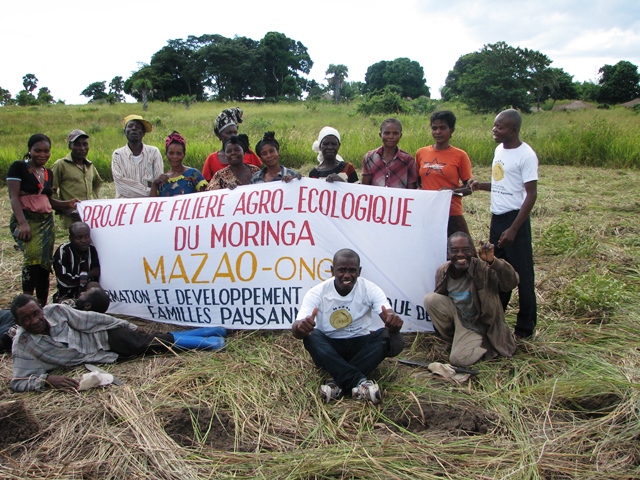 The Part-Ecology System
The part-ecology system is a framework created by Food from Forest. The value chain cycle enhances the resilience and sustainability of all eco-systems involved in the process of food production and retail. This process is visible in their latest Food from Forest product called Just Moringa. A fair trade nutritional product that has a direct impact on the social, environmental and health needs of the farmers.
Once farmers have grown the Moringa trees, they process the leaves to be ground into a powder. They then prepare the finished product to be commercialized into the international market. A fair price is paid to the family farmers and this also includes a portion of the sales profits that are re-invested into the village farms for them to decide on how it will be spent. The remaining profits are then managed by Food from Forest to invest in more edible forests in other villages in order to continue the sustainable cycle of positive change.
Just Moringa
Just Moringa is a naturally grown product that is grown in the plains of the Democratic Republic of Congo. It derives from a tropical plant called Moringa Oleifera, which has always been employed in traditional medicine.
The nutritional meal plant is also a super food as it contains enough nutrients, minerals and vitamins to help the body in maintaining good health. The plant is grown by farmers of the Food from Forest social business and is high in vegetable protein content, Vitamins A, D, E and antioxidants. Some of the other benefits of Just Moringa include:
Cleansing and detoxification of the body.

Reinforcement of the immune system and defense against cellular ageing.

Energizing with caffeine.

Stabilizer for blood glucose levels and cholesterol.
Just Moringa has proven to not only be useful for the village people of Tanganyika as a nutrition source, but its export into the international market means that people around the world can improve their well being by using this product.
Food from Forest is currently looking for potential investors who would like to help the organization further expand its reach thanks to the Just Moringa product. By accessing capital they will be able to introduce more naturally grown products that can help alleviate the nutritional, social and economic challenges faced by other villages like Tanganyika in the DRC in addition to improving the consumers' health.
The social entrepreneurs
Luca Urbano:
Luca Urbano, President of Mazao, grew up in Congo and graduated in Business Management at the University of Queen Mary (London) with a thesis in Pedagogy and Art. After successfully establishing the first "Organic and Vegan Japanese restaurant in Europe", he went back to Congo to found the NGO Mazao. In 2012 he launched the first Social Food Supply Chain in the world, an integrated and holistic food system to bridge the gap between smallholder farmers and consumers.
Chiara Trotto:
Chiara Trotto, Vice-President of Mazao, graduated in Social Science for Cooperation and Development at "La Sapienza" University of Rome with a thesis on Sustainability Urban Policies in Developing Countries. After different experiences in not for profit organizations in Italy and two field researches for the University of Senegal and Niger she decided to join Luca in co-founding the Mazao NGO in Congo and integrate her expertise in social and youth training in rural areas. In 2012 she took part in a 6 months feasibility study to launch the Likilimba Program in Kalemie and then she started working as financial officer and human resources officer at Mazao, where she is Program Manager to coordinate different projects the NGO is running.